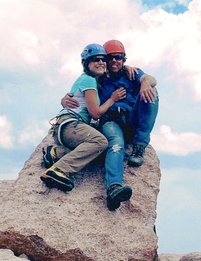 I've never had an unsuccessful attempt on Longs Peak. Fourteen times I've stood on that summit and I've never been turned back by weather, altitude sickness or a wavering hiking partner. That mountain has always taken care of me. It's certainly not my favorite peak but it's the one I've visited most often over these last ten years I've spent traipsing around Rocky Mountain National Park. It's also the one I know I will always return to as long as I am physically able.
I have always appreciated the views of Longs Peak offered by mountaintops near and far. So many times I've stood on a summit and asked a friend to get my photo with Longs Peak as the background. From the popular trail up to Dream Lake to the obscure summits of Wild Basin, there is no shortage of views of Longs Peak in Rocky Mountain National Park. That unmistakable, blocky summit seems to appear in unexpected places as well. Last fall, I was surprised to catch a glimpse of Longs when I hiked Torreys Peak, a popular Colorado 14er near Georgetown. Skiing down Parsenn Bowl at Winter Park Resort on a bluebird day, Longs is clearly visible in the distance. It's almost as though that mountain follows me around, protecting me on my travels through the high country.
My favorite view of Longs Peak, though, is the one from Colorado Highway 7, where the Longs Peak Inn used to stand. From there, you can see it all: the Diamond, the Loft, the Notch Couloir, and that beautiful skyline featuring Mount Meeker, Longs Peak and Mount Lady Washington. I etched that skyline onto every silly homemade card I made for my husband. He loved that mountain more than any place on this earth, and although my connection to Longs Peak did not run quite as deep as his, I definitely understood. I know what it's like to feel Mother Nature wrap you in a blanket of wildflowers as you look up at the snow-capped peaks you hope to climb. I know what it's like to feel a tear roll down your cheek because a sunset is just so damn beautiful that you cannot help yourself. I know what it's like to try and catch your breath seconds after jumping into a frigid alpine lake. These are the moments that make you feel alive and I've been lucky enough to have had about a million of them.
Upon returning from a backcountry camping trip in 2016, I was shocked to find out that I had lost my husband, Jim Detterline, in a climbing accident. Jim passed away on a Tuesday. The following Saturday I got in my car and drove to the Longs Peak Trailhead. After days of shock and being shuttled around and surrounded by so many people, that time alone was a really big deal.
On that trail I had the first of so many one-sided conversations that start with, "Well, Jim…" followed by a flood of tears. Who knows what I might've talked about? I certainly don't remember. I walked up the drainage that leaves the trail at Lightning Bridge and soaked in the quiet solitude and crisp fall air. When I rejoined the trail, I sat down and took out a t-shirt I had pulled out of the hamper because it still had his smell on it. I sat there at treeline, buried my face in that shirt and sobbed.
I know every shortcut on the Longs Peak Trail and I really thought I'd enjoy a quiet hike down the old phone line, remembering all the times Jim and I raced down straight downhill after a successful climb, talking about what we were going to order at Ed's Cantina.
I took the regular trail down, though. No one could see the bloodshot, puffy eyes behind my sunglasses. I talked to people as though it was my first time to ever hike that trail. "You guys went to Chasm Lake? Wow! What was it like there?" I said to a group of young hikers. I remember some lady complimented me on my skirt. Someone else looked disapprovingly at my sneakers.
What a feeling of freedom to be so anonymous! After days of being terrified to walk into the grocery store because I felt like everyone I saw either stared at me or averted their eyes, I felt free! No one knew me; no one knew my deep emotional connection to that trail and the peak it was named for.
I know I'm not the only one who thinks of Jim every time I look up at Longs Peak or set foot on that trail. How lucky are we all to have that majestic peak to remind us of that laugh, those piercing blue eyes and that drive to stand atop that summit again and again!
If you were lucky enough to share the summit of Longs Peak with Jim Detterline, you know that his enthusiasm for that peak never waned. He was as excited for summit #428 as he was for summit #1. For many people, the best part of a Longs Peak climb with Jim was the hike down. If you could keep up, you'd get a history lesson for sure! "Just imagine Rocky Mountain Jim and Isabella Bird riding on horseback up this very same trail," he'd say as we cruised down the abandoned trail from their time.
I don't worry about my safety on the Longs Peak Trail anymore. I have a guardian angel who knows the terrain. I like to think that we all do. ​